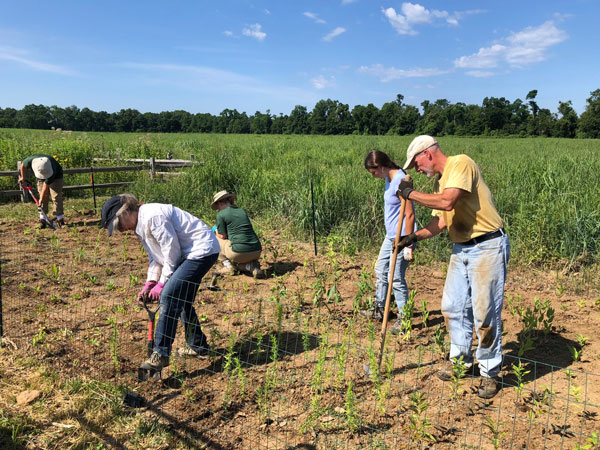 The number one priority of the Foundation's Environmental Committee is to increase biodiversity within the Park. To achieve this goal, we concentrate on removing invasive plants and replacing them with seeds and native plants.
For each of these activities you need to protect yourself from ticks and biting insects. Long pants that can be tucked into your socks and sturdy boots are strongly recommended. Sun block, a hat and insect repellant are needed. We will provide guidance to help you avoid these pests so you can enjoy the experience.
Environmental Volunteer Projects
Adopt a Native Pollinator Garden – Would you like to be responsible for maintaining one of our pollinator gardens? We will teach you what plants need to be pulled and how to identify the native plants. You will need to complete a one-hour training session. When your training is complete you can work on your own schedule.
Weekday Group Volunteering - Would you like to work in a small group during the week? We cut vines, dig out roots, weed whack areas, pull weeds, install deer fencing and plant natives. The jobs vary depending on the time of year, but the job satisfaction is consistently high! Volunteering takes place in the morning for 2 to 3 hours. The day of the week will vary depending on weather and other activities.
Weekend Warrior Volunteering - Weekend volunteer efforts are generally on Saturdays from 9:30 to 11:30 and are coordinated with the NYS Park Saturday Stewards. The type of work is seasonal, but the majority focuses on invasive removal and planting.
Corporate Groups – Environmental-based volunteering is well suited for employee groups. In the past we have hosted local companies as well as those from NYC. Upon arriving a short presentation will be provided on a brief history of Caumsett and the environmental benefits of the group's volunteer work. Corporate volunteers typically work on weekend mornings.
Your participation is welcome on these projects. Please contact Environmental Chair, Sue Feustel at suzyfeustel@icloud.com and specify your choice of volunteer activity.